Microsoft Visio Professional 2021 Key
The advantages of Microsoft Visio 2021 Professional
Microsoft Visio has advanced diagrams and flowchart designs to another level.  Visio streamlines the entire process so that the user does not have to find the right images in PowerPoint or add charts and graphs to Word documents,. It comes with tools to arrange numbers, complex data and transform them into easy to refer floor plans, flow charts and much more. New Visio fulfills this with a vast range of templates and icons which can be used to create a visual explanation to ease understanding of your audience.
Microsoft Visio Interface
The shapes of Visio are brilliant and simple. Shapes are for maps, flowcharts, floor plans, organizational charts, diagrams, engineering plans, and many more.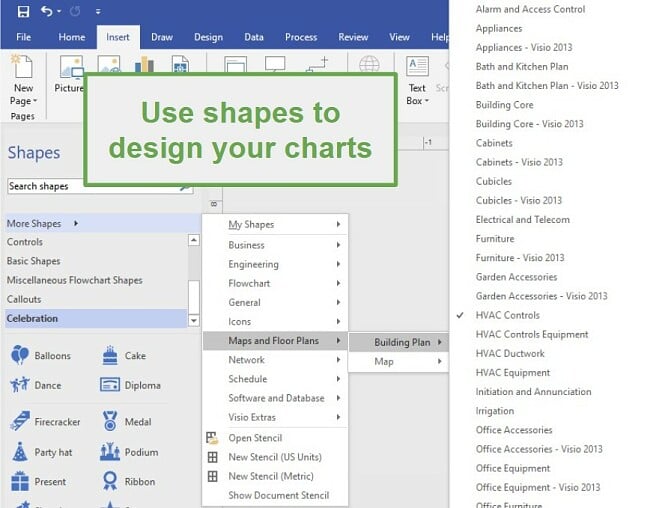 User can drag the desired shapes onto the editing board and arrange them the way preferred. The angle or views in the presentation can be changed too.  Also Visio lets you add multiple layers and control which parts can be viewed, and at what stage of the presentation it is to be viewed. That allows you to mask up some irrelevant or sensitive information and carry on the presentation. Visio further allows you to customize your own designs as shapes.
Visio Has Some Excellent Features
Visio offers a very attractive range of lucrative features which cherishes its reputation as an industry-leading diagramming and flowcharting program.
Professional templates: When creating and designing floor plans, charts, diagrams, and if aren't your strong point, hundreds of templates that are included with the Microsoft Visio free trial are offered for you to choose from. The templates are categorized by genre, also comes with a search function for your ease to find the template to suit your specific project.
Collaboration tools:  If you're designing a chart for school or work, Visio offers excellent collaboration tools that makes it easy for you to work as a team by sharing your work with others (specific users and permission for either to edit or view). With editing permission, specific user can make changes in real-time, suggest changes, add notes and annotations. Very compatible with Microsoft Teams that eases to perpetuate the conversation in one way and hassle free of using multiple messaging apps.
Connect with Real-Time Data Sources: Very impressive feature of Visio is that it works with multiple real-time data sources where you can sync your charts with Access Databases, SQL, Server databases,  and Excel documents and receive automatic updates upon the update of data.
Access your Work From Anywhere: Besides a downloadable software,  Visio can be accessed with a web app without needing to bring your computer or laptop with you. The web app doesn't offer all the advanced features, but facilitates for creating charts, editing, accessing most of the shapes, and presenting your work.
Microsoft 365 integrations: Although Visio does not only uses the same ribbon-style layout as Word, Excel, and PowerPoint, as a Microsoft program , it's fully integrated with these programs; able to connect to Excel and use the Data Visualizer to feed map data into Visio diagrams and automatically upload the Visio charts and graphs to a Word document.